Filter by Subcategory
Distance Learning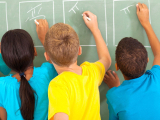 Registration Unavailable
Gender in the Classroom for Parents
TBA Help your son or daughter learn more, and succeed more, in school.  Discover why girls waste 30% of their study time, why boys get worse grades than girls, why boys do less homework than girls, and the 5 learning habits girls get in school that hurts them in the workplace. Discover how males and females learn differently. Take away tips for helping your daughter and/or son learn more, and tips to help him and/or her succeed more in school. You'll also discover something new about you learn too! Get info not available anywhere else.
Registration Unavailable
Students with ASD for Parents
TBA For parents of children who have been diagnosed with ASD (Austim Spectrum Disorder) a neurological disorder on the autism spectrum. Find out how to work effectively with your child, to create the most positive learning environment in and outside of school for your child. Then take away strategies for working effectively with your child's teachers. The course is geared for parents and teachers, but it is also relevant for anyone else interested in understanding this important issue.