Filter by Subcategory
Personal Enrichment
Registration Unavailable
Gardens Aglow Bus Trip

Next session starts Dec 1, 2018
An afternoon departure will take you the Coastal Maine Botanical Garden in Boothbay Harbor for their annual Gardens aglow. First you will stop for an included box lunch at Sarah's cafe in Wiscasset then you will be off to see the over 500,000 lights that decorate the gardens. Fun for the whole family! Space is very limited so register early.
Lunch choices are available by calling the office at 368-3290
Departing from Palmyra Walmart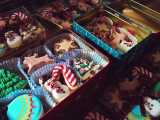 Holiday Treats Exchange

Next session starts Dec 6, 2018 at 6:30 pm
Bring 2 dozen of your favorite holiday treats along with your recipe to share and swap wit others while socializing over coffee/tea and treats. At the end of the night, you will take home an assortment of holiday goodies to freeze untill needed for holiday guests, as well as a holiday recipe booklet to add to your recipe collection
Registration Unavailable
Kringle & Yankee Candle Bus Trip

Next session starts Nov 17, 2018
An early morning will take you to Bernardston MA where you will have 3 hours to explore the Kringle Candle Flagship store, visit the charming shops across the street and grab a bite to eat. At 3 p.m. you will be taken to Yankee Candle's flagship store to once again explore and take part in their Christmas Tree lighting. A great chance to start your holiday shopping and kick off the season! We will depart for home at 6:00 pm.
Space is limited so register early.