Filter by Category
Baking & Cooking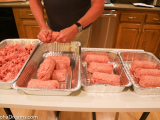 Cooking For Crowds Food Safety
with Laurie Bowen

Next session starts Oct 22, 2019 at 4:30 pm
Many organizations and community groups rely on volunteers like you for a variety of food events for fundraising, fellowship, food pantries or other service to the community. But cooking for a crowd is tricky! How do you store all that food? When is the food completely cooked? How long can you leave food on the buffet table? Now there is a workshop on Safe Food Handling designed specifically for Volunteers.
This class meets the Good Shepherd Food Bank food safety training requirements
Registration Unavailable
Explore Dominican Cooking
with Raquel LaPlante

Next session starts Oct 16, 2019 at 4:30 pm

, runs for 3 weeks
Come join us on a 3-night adventure where you'll be learning how to make typical Dominican appetizers and food. We will use the typical Dominican ingredients of rice, beans, plantain, yucca root, cilantro, garlic and onions. (It's not spicy) In our first class, we'll make appetizers and then meals in the next two classes. Each night you will leave with recipes and full of tasty dishes that you have prepared that evening. Raquel grew up in the Dominican Republic and is excited to share new foods and techniques with you. A one time $25 ingredient fee will be paid directly to the instructor the first night.