Filter by Category
Baking & Cooking
All Things Herb
with Laurie Bowen

Next session starts Nov 8, 2018 at 5:30 pm
Learn the best way to preserve herbs in this hands on workshop. We will discuss freezing and drying herbs, making herb pesto and infusing vinegars with creative herb combinaitons. Participants will receive recipes, enjoy samples of preserved herbs and prepare several preserved herb products.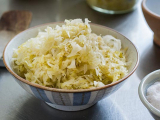 Fermenting Sauerkraut
with Laurie Bowen

Next session starts Oct 24, 2018 at 5:30 pm
Come learn the process of making your own sauerkraut through the wonders of fermentation. Learn the basics, such as preserving equipment, recommended recipes and ingredients and enjoy the ease of fermentation. You will start a batch of sauerkraut, learn the steps towards fermentaion and take your first batch home to finish.
Holiday Treats Exchange

Next session starts Dec 6, 2018 at 6:30 pm
Bring 2 dozen of your favorite holiday treats along with your recipe to share and swap wit others while socializing over coffee/tea and treats. At the end of the night, you will take home an assortment of holiday goodies to freeze untill needed for holiday guests, as well as a holiday recipe booklet to add to your recipe collection