Filter by Category
Health & Wellness
All Things Herb
with Laurie Bowen

Next session starts Nov 8, 2018 at 5:30 pm
Learn the best way to preserve herbs in this hands on workshop. We will discuss freezing and drying herbs, making herb pesto and infusing vinegars with creative herb combinaitons. Participants will receive recipes, enjoy samples of preserved herbs and prepare several preserved herb products.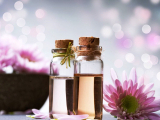 Essential Oils Make & Take
with Amanda Osborne

Next session starts Oct 23, 2018 at 6:30 pm
Come to this class and learn what you can do with essential oils. You will be able to take your creations home with you and this would be a great class to start your Christmas shopping!
$10 material fee paid to instructor
Yoga for Every - Body
with Lily Hockley

Next session starts Oct 16, 2018 at 6 pm

, runs for 8 weeks
In this class we will focus on linking our breath to physical movement in order to build strength, flexibility and balance.
Please bring a mat, water bottle and wear comfortable clothing that allows for ease of movement.