Filter by Subcategory
Business & Skills Training
Substitute Teacher Forum
with Walter Boomsma

Next available session starts Feb 27, 2020 at 7 pm
Should you be a substitute teacher? Don't decide until you get the facts!  If you enjoy spending time with children and would like a flexible work schedule, substituting may be for you! If you're a little nervous about it and wonder what it's like, come to this free forum that will answer all your questions -- even the ones you don't know you have! Walter Boomsma, a well-known, battle-tested substitute teacher, and author. There will be lots of open discussion answering questions you may have concerning working in a school environment.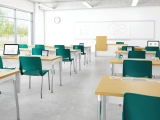 Substitute Teacher Workshop
with Walter Boomsma

Next available session starts Mar 3, 2020 at 6 pm
Designed to prepare those interested in serving as a substitute teacher or ed tech. There will be plenty of "hands on learning" and important classroom management techniques and teaching strategies. We'll also cover some legal aspects and help you develop your own "sub pack" or resources and an action plan that will get you started on the right foot! If you have been subbing, this is a great opportunity for a refresher and some new ideas. Attendees will earn a certificate recognized by many local districts.
Suicide Prevention Workshop
with Walter Boomsma

Next available session starts Mar 10, 2020 at 6 pm
This 2-hour awareness sessions will bring attendees into compliance with the law (LD 609) that requires all Maine school employees to receive basic suicide prevention education. Designed to raise awareness about suicide risk factors and warning signs and to provide information on what practical steps to take if suicide is suspected. While focused on students and youth, the information and skills are appropriate for use with anyone who might be feeling suicidal, no matter what age. Walter Boomsma is Gatekeeper Trained and is a NAMI (National Alliance for Mental Illness) Certified Mental Health First Aid Specialist