Filter by Category
Tools and Trades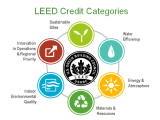 Registration Unavailable
LEED v4 Green Associate Exam Prep & Study Group
with Online

Sep 5, 2017
In each of the first seven Units we cover all specification sections listed by the Green Building Certification Institute as exam content areas. The final Unit focuses on exam preparation.
To be successful in this course and on the exam I recommend you view all the presentations, thoroughly read and understand all the readings, successfully pass each of the Unit's quizzes and engage in the discussion forums with me and your fellow students.
You will examine case studies of LEED certified building projects, concepts of integrated design, third-party verification and the LEED administration process. Kelly Gearhart, your instructor, holds the designations LEED AP BD+C, LEED AP O+M, and will answer your questions in the online discussion.
Two month online course, Kelly Gearhart, instructor.
Registration Unavailable
ServSafe Manager Certfificate
with Ken Bakos

Nov 18, 2017 at 9 am
Food safety training is a commitment, a mindset and a smart business practice for every restaurant and food service operation in our industry. Food safety training doesn't end, however, once a manager earns their certification. That's where it begins – by implementing food safety practices on a daily basis. It is also critical that every person in an operation meets today's food safety practice demands. The ServSafe ® program provides the resources to help keep food safety as an essential ingredient in every meal. ServSafe ® training is the one commitment to food safety implementation that we should all share every day.
Please register online at https://onfocussolutions.com/all-scheduled-classes/ and scroll down to the date at Newport.